The Power of a Freelance Web Developer: How Hiring a Skilled Professional Can Take Your Business to the Next Level?
Apr 3,2023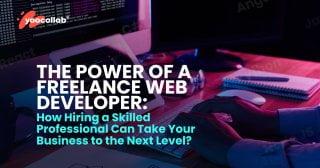 What is a freelance web developer and how can they help your business?
A freelance web developer may be just what your business needs to take things to the next level. Not only do they have the skills and expertise to build a unique website for your brand, but they also offer cost-efficiency and flexibility when it comes to hiring them for projects. 
With the ability to work remotely, you don't need to worry about managing personnel or providing workspace. 
By taking advantage of a freelance web developer's services, you can bring a level of professionalism and creativity that you wouldn't be able to achieve on your own. This can help set you apart from the competition and give potential customers an impressive first impression. 
Hiring a freelance web developer is one of the best decisions any business owner can make in order to maintain their digital presence.
Tips for finding the right freelance web developer for your project
Finding the right freelance web developer for your project can be a daunting task, but there are several tips you can follow to increase your chances of success:
Determine your project requirements: Before you start searching for a freelance web developer, you should determine the scope and requirements of your project. This will help you identify the specific skills and experience your ideal candidate should have.
Look for specialized skills: Look for a freelance web developer who has the specific skills and experience needed to complete your project. For example, if you need an e-commerce website, look for a developer with experience in building online stores.
Check their portfolio: Always review a freelancer's portfolio to get a sense of their work and style. Look for projects that are similar to yours to see if they have experience with similar projects.
Read reviews and testimonials: Check for reviews and testimonials from previous clients to see if the freelancer has a good reputation for delivering high-quality work and meeting deadlines.
Ask for references: Ask the freelancer for references from previous clients. Reach out to these references to get a sense of the freelancer's work style, communication skills, and ability to meet deadlines.
Evaluate communication skills: Communication is key when working with a freelancer. Look for someone who is responsive and communicates clearly and effectively.
Discuss timelines and budgets: Make sure to discuss timelines and budgets upfront with the freelancer. Ensure that they are comfortable with the project's scope and can deliver the project within the desired timeline and budget.
By following these tips, you can find the right freelance web developer for your project and increase your chances of success.
How to ensure you get the most out of your freelance work?
As a freelance web developer, it can be difficult to balance client work while meeting your personal goals. To ensure that you get the most out of your freelance work, it is important to have a plan in place. 
First, set achievable deadlines for both yourself and your clients. This not only gives you the opportunity to receive feedback quickly but also encourages accountability on all sides. 
Secondly, take breaks between projects so that you remain productive and energized throughout the entire process. 
Thirdly, don't be afraid to ask questions when needed. Doing so ensures that both sides have a good understanding of expectations and creates positive working relationships. Last but not least, set realistic rates for your services and always stick with them – this will help make sure you are compensated fairly for your work. By following these guidelines, you can rest assured that your freelance endeavors provide meaningful rewards along the way.
The importance of setting clear goals and expectations 
As a freelance web developer, it's important to have clear goals and expectations for each project. Goals provide the focus for deciding what tasks need to be completed, and expectations can inform the timeline for those tasks. 
Setting well-defined goals and expectations eliminates confusion down the line. 
For both freelancer and client, clear understanding of the aims of a project helps keep everyone satisfied with the end result. 
Having clear cut goals and expectations shows commitment to professionalism which establishes trustworthiness in a competitive field. Knowing exactly what needs to be done at any particular point makes completing projects means far more efficient — saving both time and money in the long run.
How to keep communication open between you and the freelancer
As a business owner, it can be difficult to ensure that freelancers are staying on task and hitting deadlines. 
To ensure that communication always stays open between you and the freelance web developer you've hired, it is important to set expectations regarding available support hours, general processes, frequency of updates, and contact information. Clearly outline organizing tasks so that everyone is aware of their roles and responsibilities. 
Additionally, encourage regular check-ins with time frames for reviews so any issues or clarification questions can be handled in a timely manner. 
Finally, providing an effective channel for two-way communication to discuss unfinished tasks or collaboration ideas will help keep both parties focused and productive.
Conclusion:
When it comes to giving your business a major advantage, there is no substitute for a skilled web development professional. 
By delegating tasks and managing timelines, content, and resources, the right freelance developer can help you take your project to new heights. 
Not only does this optimize efficiency and productivity in the workplace, but the extra set of hands can jumpstart any endeavor. 
Plus, high-quality coding ensures that your website will continue working long into the future. 
To start harnessing these powerful resources today, visit Yoocollab and find the professional who's perfect for you! 
You never know what kinds of incredible opportunities could open up with that one right hire.
 It doesn't take long to find out–jump in now and watch your business soar!