Building Exceptional Websites: Why You Need to Hire a Drupal Developer?
Apr 13,2023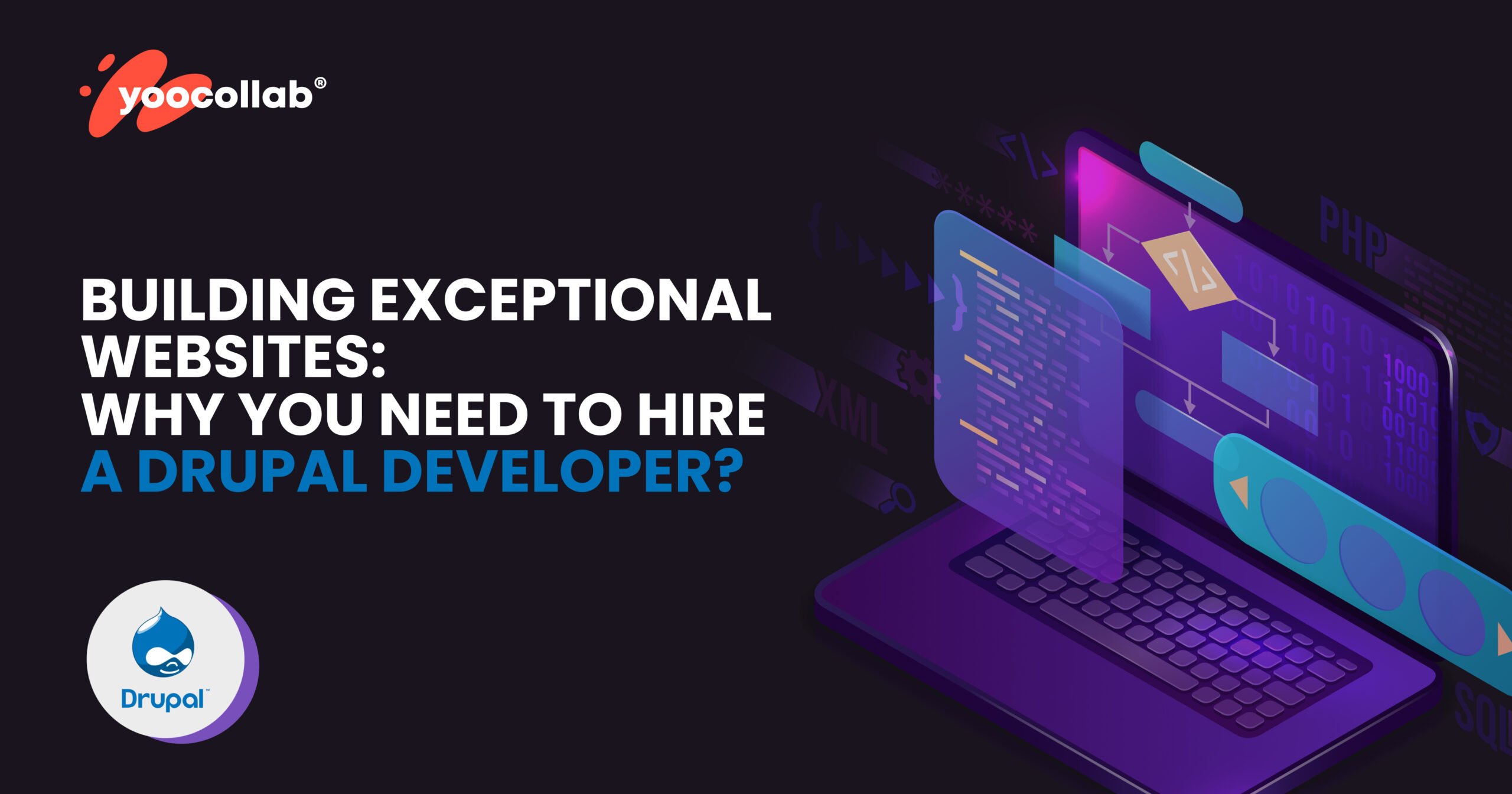 Introducing Drupal and why it is an ideal development platform 
Drupal is a powerful content management system (CMS) that is becoming increasingly popular in the web development industry. It is an open-source platform that allows developers to create and manage various types of websites, from small blogs to large e-commerce sites. 
As a result, many businesses are turning to Drupal as their preferred platform with the right development approach. Hiring a Drupal developer can provide numerous benefits, such as an expert understanding of the platform, a faster website build, and the ability to customize and personalize your website to meet your business needs. 
With Drupal's flexibility and scalability, there's no limit to what you can create. 
So if you're looking for a robust and reliable platform to build your website on, consider Drupal and hire a skilled developer to bring your vision to life.
Understanding the power of Drupal-based websites when working with experienced developers
When it comes to building a high-quality website, having an experienced developer on your team is essential. And when that developer is trained in Drupal, you're in for an even greater advantage. 
Drupal-based websites provide a level of flexibility and customization that can be difficult to achieve with other platforms. Additionally, Drupal is highly scalable, meaning that as your website grows and evolves, it can easily be adapted to meet your changing needs.
So, if you're looking to take your website to the next level, consider hiring a Drupal developer today. With their expertise, you'll be able to create a website that is both powerful and highly functional.
Advantages of hiring a Drupal developer
Hiring a Drupal developer can not only save you money, but also provide a wealth of customization options for your website. A skilled Drupal developer can efficiently design and implement your website in a way that suits your specific needs and goals. 
By choosing to hire a Drupal developer, you can ensure that your website will have a unique and personalized feel, tailored to the needs of your customers. Whether you're searching for cost savings or enhanced customizability, a Drupal developer can provide the expertise you need to succeed in today's digital landscape.
What services do Drupal developers offer?
Are you looking to hire a Drupal developer? If so, it's important to explore the different services they offer to ensure you find the right fit for your needs. Drupal developers can create stunning websites through their expert web design skills. They can also design custom themes that match the look and feel of your brand.
 Additionally, Drupal developers can help you increase your online visibility through SEO optimization, which can lead to more traffic and higher conversion rates. 
When searching for a Drupal developer, make sure to inquire about all the services they offer to find the perfect match for your project.
Tips for finding the right developer or agency to build your website 
In today's digital age, having a website is a must for any business or organization. However, building a website can be quite complex and time-consuming. That's why many people choose to hire a Drupal developer or agency to do the job for them. But with so many developers and agencies out there, how do you find the right one? The key is to do your research and ask the right questions.
 When hiring a Drupal developer, look for someone who has a solid understanding of Drupal core and is up-to-date with the latest Drupal technologies. 
Additionally, it's important to ask for references and review their portfolio to ensure their work aligns with your expectations. 
Remember, finding the right developer or agency is a crucial step in creating the website of your dreams.
How to get started building an exceptional website with a Drupal developer
In today's digital world, having a website is a must-have for businesses looking to succeed. Building a website from scratch can be a complicated process, and that's where hiring a Drupal developer can make all the difference. With their expertise in Drupal development, they can help you create an exceptional website that will cater to your business needs. Working with a Drupal developer eliminates the guesswork, as they have the latest tools, techniques, and knowledge of the industry. Once you hire a Drupal developer, they will collaborate with you to determine your goals and needs to make sure you get the most out of your website. Whether you're looking for a simple blog or a complex online store, a Drupal developer can help you build and maintain a website that will stand out from the crowd.
Conclusion:
Building a successful and exceptional website requires knowledge, skills and experience. Through hiring dedicated Drupal developers, you can ensure that your website is intuitive, has unbeatable functionalities and takes your business to the next level. With the right resources in place, minimum effort is required to maintain an up-to-date website. 
At Yoocollab, our team of Drupal experts have been mastering the technology for years and have successfully served clients from all around. 
By hiring us we guarantee satisfaction with the end product and ensure that you get the more out of your investment. 
Rely on us to bring out the most of Drupal's powerful features while setting up swift solutions and security features. If you're looking for tailored services from an experienced team who always keep themselves updated with new web development trends and techniques, reach out to us now at Yoocollab!