What is ChatGPT? Will it lead to layoffs?
Apr 7,2023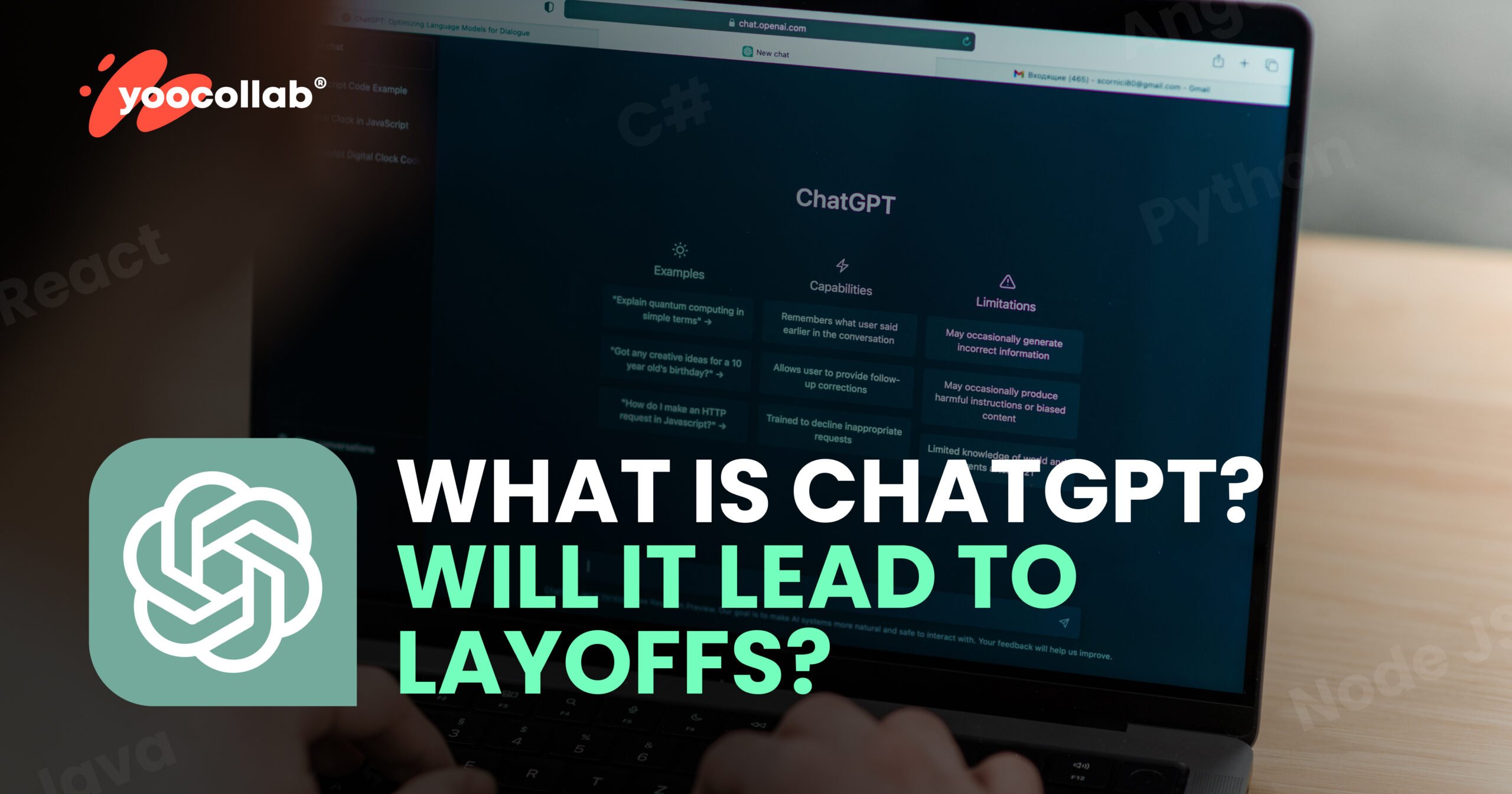 ChatGPT, an acronym for Chat Generative Pre-trained Transformer, is an advanced artificial intelligence language model developed by OpenAI.
It has the ability to understand and engage in human-like conversation, providing detailed responses to users' queries. 
With its remarkable language capabilities, ChatGPT has been integrated into a wide range of applications, including chatbots, virtual assistants, and content generation tools.
Introducing ChatGPT – What is it and How Does it Work?
ChatGPT is an innovative AI platform that provides quick, intuitive and accurate responses. 
Unlike other AI software, ChatGPT utilizes natural language processing (NLP) and predictive technology to understand questions users ask in natural language conversational style, allowing it to generate intelligent responses. 
The platform was designed with scalability in mind from the get-go so it can be tailored for various different use cases – ranging from customer support to all types of industry solutions. 
As a result of its impressive capabilities, ChatGPT has experienced increased demand from businesses looking for an easy way to interact with customers or provide fast information retrieval. To give you a better understanding of how it works, ChatGPT uses natural language processing (NLP) combined with deep learning technology in order to accurately understand phrases and contexts, which leads to smoother conversations between the user and the platform. Essentially, this means that ChatGPT can respond in conversational style just like a human would. It's clear why more businesses are turning towards this AI-powered platform – especially when they need reliable answers faster than ever before.
The Benefits of ChatGPT for Businesses 
As an AI language model, ChatGPT can provide several benefits for businesses. Here are some of them:
24/7 Customer Support: ChatGPT can provide businesses with a round-the-clock customer support system. This means that customers can receive assistance and answers to their questions at any time of the day, even outside of normal business hours.
Personalized Customer Interaction: ChatGPT can be customized to provide personalized customer interactions. It can learn from previous interactions and provide tailored responses to customers based on their individual needs and preferences.
Improved Customer Satisfaction: By providing quick and accurate responses to customer inquiries, ChatGPT can help improve customer satisfaction. This can lead to increased customer loyalty and repeat business.
Data Analysis: ChatGPT can analyze customer interactions and provide businesses with valuable insights into customer needs, preferences, and behavior. This can help businesses make informed decisions about product development, marketing strategies, and customer service.
Scalability: ChatGPT can handle large volumes of customer inquiries without experiencing any downtime or performance issues. This makes it a scalable solution that can grow with the business.
Overall, ChatGPT can help businesses improve their customer support, reduce costs, and gain valuable insights into customer behavior.
Will Automation Lead to Job Losses or New Opportunities?
Automation has been a hot-button issue in today's workforce, with many believing that it will lead to job losses. However, this technology can also open up new opportunities as well. Artificial Intelligence (AI) and chat GPTs (Generative Pre-trained Transformer) are becoming increasingly prevalent in various industries, making tedious tasks such as data entry easier. 
Consequently, employees are free to focus more on creative problem solving that cannot be done by machines. With automation streamlining certain processes, businesses can further advance their work, which opens the door for workers to pursue more meaningful tasks that not only serve the employer but also help them increase their skillset, learn new strategies and strategies of thinking all related to the given task. This could create a much better experience for future generations entering the workforce who are better equipped with all the right skills and resources needed.
Case Studies of Companies Already Using ChatGPT
ChatGPT is one of the newest forms of Artificial Intelligence (AI) available today. It has quickly become a popular choice for companies seeking to upgrade their customer service experience, as well as streamline their internal processes. Case studies have revealed positive outcomes for many companies already using this cutting-edge AI, including quicker product turnover, improved lead generation, and increased customer satisfaction and retention rates. 
Companies have enjoyed saving time and money due to the fact that ChatGPT can handle multiple tasks once done by humans in a fraction of the time. 
The cost-effectiveness and convenience of using ChatGPT are making it one of the top candidates for businesses around the world looking to modernize their systems with a tried and true AI solution.
Potential Challenges with Implementing ChatGPT Technology 
Implementing ChatGPT technology into existing systems or software may prove to be difficult. This is because AI is complex and hard to program correctly, requiring significant data science expertise. Without proper implementation, there could be a risk of system errors, information leakage, cybersecurity risks, and other unexpected consequences. 
To implement ChatGPT technology safely, organizations must ensure that their engineers and architects are highly proficient and practice caution during the design process. 
Additionally, incorporating safety mechanisms such as built-in alarms for potential issues can help organizations protect themselves from potential pitfalls in this fascinating new technology.
What the Future Holds for Automated Chatbots in Businesses?
The future of automated chatbots in businesses looks very bright. With the wide adoption of artificial intelligence and natural language processing, chatbot GPTs (generative pre-trained transformers) have become increasingly interconnected and capable of more complex conversational behavior. Chatbot technology has already helped many businesses maximize their customer service potential by providing instant answers to common questions. 
Moreover, conversational AI algorithms are becoming ever more advanced, enabling even more effective automating abilities for brands that rely on quick customer service.
From responding quickly to inquiries to remembering customer preferences from one conversation to the next, the potential applications for automated chatbots are virtually limitless. As this sophisticated technology rapidly becomes more and more accessible for businesses both large and small, it is no surprise that the future of AI-powered chatbots appears so highly promising.
Conclusion:
ChatGPT is quickly becoming an efficient and powerful tool for businesses of all sizes. With its ability to create powerful automated conversations, it could revolutionize the way we interact with customers. 
The possibilities are endless — from AI-driven customer support to virtual assistants and beyond. But, what's certain is that one thing is for sure: if chatbots become more powerful and intelligent, there will be a number of people who are impacted by this shift, including those who work in customer service today. 
To stay ahead of the game and find more innovative solutions as technology evolves, such as Yoocollab, companies should consider investing in the newest AI technologies available. It's an incredibly exciting time for Artificial Intelligence – and only time will tell what amazing things ChatGPT will be able to do once fully integrated into enterprise operations!