How to Optimise Your Global Outsourcing Strategy for Maximum Performance
Mar 9,2023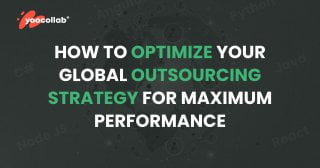 Understand the differences between global and domestic outsourcing
Regardless of the size of a business, global outsourcing can be used to increase efficiency and reduce cost. When looking at global versus domestic outsourcing strategies, there are a few key differences to consider. 
Global sourcing has the advantage of it being cheaper for companies as many global markets offer lower skill labor and cost efficient production options. Additionally, global sourcing can provide greater access to global markets, helping expand reach and build stronger supplier relationships with new companies abroad. 
Additionally, global outsourcing reduces the potential risk associated with having all resources based in one region or country in case of an unexpected drawback or change in policy. However, global sourcing tends to have higher overhead costs due to frequent travel and language barriers features needing translation services while domestic outsourcing can help find faster short-term solutions due to its proximity and ability to communicate clearly with team members or partners located within the same local market.
Analyse and identify your business's needs to determine the right outsourcing partner 
When it comes to global outsourcing strategies, the most important step is understanding one's own business needs. A thorough analysis should be conducted in order to effectively identify global service provider capabilities, learning what works best for a particular business. One should also look at the costs and benefits associated with global outsourcing choices.
It is important to take into account how partners are selected and managed and also consider ethical global issues that may arise from choosing certain providers over others. By carefully analyzing and identifying a company's needs, businesses are better suited to choose the right global outsourcing partner that fits their specific requirements.
Develop pectations a clear set of exand targets to ensure success 
Establishing global outsourcing strategies that clearly define expectations and objectives is a powerful way to ensure success. Without this type of plan in place, it can be nearly impossible to accurately assess performance, measure results, and determine where resources should be allocated for necessary refinement or improvement. 
Solid goals provide teams with both motivation and direction, allowing them the confidence to achieve great things and make meaningful contributions to the company's mission. These plans are essential for any organization looking to gain maximum efficiency from global resources.
Research and consider cultural differences when selecting an international provider
Companies looking to globalize their outsourcing strategies should research and consider cultural differences when selecting an international provider. Doing so can have a major impact on the effectiveness of this method. Every country and culture has its own particular way of doing things, with different communication styles, expectations, preferences and levels of service.
Different countries may also have different laws that might restrict certain activities or operations from taking place. By taking into account cultural factors throughout the process, companies can ensure that their global outsourcing projects are successful and beneficial for everyone involved.
Utilize automation to streamline processes, reduce costs, and increase efficiency
Automation is quickly becoming the global standard for processes of all kinds. It can provide enormous savings, not only in time, but also in money, which is why global outsourcing strategies have begun to incorporate automation more and more into their operations.
With the proper implementation, businesses can drastically reduce costs from mundane tasks and increase efficiency by leaving such tasks to be handled with less human oversight. 
Furthermore, automating processes can open up new opportunities for global enterprises looking to scale up their collaborative efforts without sacrificing quality or accuracy. Ultimately, automation serves as a powerful tool for streamlining operations and paving the way for global success in an ever-changing global marketplace.
Take advantage of existing technology to improve communication with remote teams
Companies could greatly benefit from global outsourcing strategies that take advantage of existing technology to improve communication with remote teams. By using messaging systems, video calls and screen sharing capabilities, you can effectively manage your global work force regardless of geographical location.
Providing employees with the right tools to survive and accomplish tasks in a global environment will increase productivity and create an organized workspace perfect for collaborating on new projects. You won't have to worry about learning different time zones or dealing with language barriers as these can be eradicated easily with the use of current technology's capabilities. Investing in global strategies which include the extensive use of technology is key to efficiently bridging the gap between employers and their remote workforce.
Conclusion:
After reading this blog post, you should now know the various strategies for optimizing your global outsourcing strategy for maximum performance. These tactics will help you to increase efficiency and minimize costs in multiple industries.
To further maximize the success of your outsourcing efforts, consider partnering with an experienced business advisor who can provide valuable insights and knowledge into best practices and processes.
For example, Yoocollab offers an array of business solutions designed to help companies better understand and optimize their international operations.
With the right team on board, you can be sure that your global outsourcing process is running as smoothly as possible – effectively guaranteeing a higher return on investment in the long run! 
As always, be sure to research before taking any leap – even if it's a good one – and don't forget the power of collaboration when utilizing an outsourcing strategy. With these few simple steps and tips, you will be well on your way to optimizing your global outsourcing strategy!